You may remember I tried taking part in Mamatorgaphy last year... you also may not remember, because I only maaged about 3 weeks!
This year, I really do want to try and get a photo a day to record our year, and so even though I may be a little late in posting them, here is my first week of photos (I'm working a week behind, so bear with me!)
1st January
I started the New Year off with a stomach bug, so all I really felt like taking a photo of that day was the Christmas tree. 
2nd January
The next day I felt a little bit better, but still not quite right. So we took a gentle walk around our local National Trust estate. The camera on my phone really isn't good at shots like this (it's supposed to show the deer that look just like funny blobs in this photo!)
3rd January
Dady and Little Man both started to show symptoms of the stomach bug on the 3rd, so we had a nice lazy day in our PJs. 
4th January
As daddy and Little Man were still feeling rough, I took advantage of the quieter moments to work some more on the book. Except both our laptops were playing up (still are!) so I took to writing with pen and paper... what a novelty that felt like!
5th January
As I had enjoyed writing by hand so much the day before, I chose to use Little Man's naptime to get some more work done on the book :)
6th January
Little Man and daddy were both feeling much better by the 6th, and so they had great fun playing together (or rather daddy playing on the xBox and Little Man trying to direct!)
7th January
We ended the week by enjoying a proper meal (after a week of not really enjoying food). This was a butternut squash, spinach and pesto risotto cooked by TJ (daddy) and was very yummy!
I'll be back next week sometime hopefully with days 8-14! In the meantime, why not check out some of the other bloggers taking part in mamatography?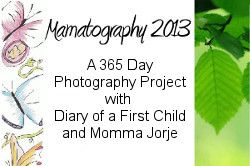 This post is part of the Mamatography 2013 Project with Diary of a First Child and Momma Jorje. We are taking (at least) a photo a day to keep a record of our year. Join us at any point during the year and start sharing your own daily photos! Here's a list of current participants:
***
Without further ado, here are the Mamatography 2013 participants!