Ooh, I am actually on time this week (working a week in lieu, of course!) 

This past week Little Man has suffered from both croup and now tonsilitis, so it's amazing I am able to get this out on a Tuesday... it's only because he is currently curled up with daddy that I have any chance of getting online to do it (photos of our "sick days" will be coming in next week's post... or rather the lack of photos due to our "sick days").
So, without further ado (before the boy decides he wants mama again), let's crack on with week 2.
8th January
 Whoops! I forgot to take a photo on the 8th... it was my first day back at work and I was intending to take a photos of the woodland area near my office, but it totally slipped my mind!
 9th January
We had a quiet morning before mama went to work and Little Man went to the childminder. We enjoyed playing with Little Man's new Christmas presents.
10th January
TJ and I decided to put the Goddess wheel and Wheel of the Year images we bought in Glastonbury last year up on the wall, to brighten up the place after the decorations had come down. We actually did this on the 5th but I didn't think to take a photo until almost a week later!
11th January
We played with Noah's Ark again... I swear, this is Little Man's favourite toy ever at the moment! He loves all the little people and animals, taking them out and popping them back in the ark over and over again, all day long!
12th January
Whoops, I forgot to take a photo again!!
13th January
"Mama, I want to pose for you, but the flash is too bright!"
14th January
Little Man got his first proper taste of snow... it snowed a little last year, but he was only a few months old and recovering from D&V and we also had a broken boiler, so it was freezing inside and we were wrapped up in many layers and snuggled under duvets trying to keep warm: there was no way we were braving the snow last year! This year, however, he really enjoyed it :)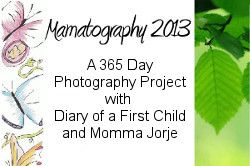 This post is part of the
Mamatography 2013 Project
with
Diary of a First Child
and
Momma Jorje
. We are taking (at least) a photo a day to keep a record of our year. Join us at any point during the year and start sharing your own daily photos! Here's a list of current participants:
***
Without further ado, here are the Mamatography 2013 participants!