With having my camera and phone stolen, I have completely lost track of what week we are currently on... but I think the 16th Feb fell into week 7... and I as I am behind on posting the next two weeks that must bring me to week 9. Is that right?
Anyway, here is my catch up!
16th February
We finally got our replacement camera on the 16th and had great fun trying out all the different functions. This photo was taken on the phone in 3 simple steps (no photo editing required on our part!)
17th February
My parents had had Little Man over the weekend so that we could catch up on things before TJ started his new job. They brought him back on the Sunday and we had great fun at our local National Trust property as it was a glorious day!
18th February
There was a time when we truly thought this day would never come... TJ started a new job, a whole new career in fact, and it was a truly special morning when he walked out the door to start his new role. We had to take a picture to document it!
Because we had a new camera, I took quite a few photos on the 18th and so here are a couple of my favourites of Little Man...
Deep in thought and clutching the duvet he had been hiding under...
Wearing his new duffel coat and looking so very grown up!
19th February
Little Man is fascinated by cameras and sometimes trying to get a photo of him is a nightmare because he is too busy playing with the lens cap or trying to press the buttons or even wanting to look to see what you're trying to take a photo of (which is usually him!) We have a lot of photos like this because of his fascination!
20th - 22nd February
Whoops! Forgot to take photos these days!
23rd February
Grandma stayed over on the 23rd as daddy had to go away for the night. Little Man loves having cuddles and snuggles with his Grandma!
24th February
On the 24th I took this photo which scared the hell out of me. As soon as I saw the white eye something niggled at the back of my mind and a quick google search confirmed my fears... a red/white eye like this could be a sign that something is wrong! 
Thankfully we took a trip to the optician who was wonderful and allayed our fears by doing as thorough a check as is possible with a wriggly 17 month old toddler and confirmed that he could get a "red reflex" from both eyes and that as far as he was concerned everything was okay. He thinks the camera flash just caught Little Man's eye ever so slightly oddly. We have a review in 3 months just to confirm this and reaffirm that there is nothing to worry about. Phew!
25th - 27th February
Whooops! Mama is getting forgetful again!
28th February
We had another session on 28th of mama trying to get a decent photo of Little Man... it didn't go so well!
1st March
We made a decision earlier in the year to switch suppliers for our phone and broadband and chose not to take on a new tv package. No big deal, right? Well we'd become used to TiVo and have no aerial connected to our tv, so it left us without any tv at all. Our solution was to buy some DVD box sets and use the xBox to watch iPlayer as and when we wanted to. Simple. 
2nd March
TJ went out for his belated leaving do from his old job Friday night and Little Man and I woke up Saturday morning to find two massive helium balloons in the living room. The champagne bottle was as large as Little Man but he ran around with is squealing so loudly that he must have woken daddy up several times and by the time daddy did emerge the balloon was rather worse for wear. This second balloon has fared slightly better...
3rd March
During one of my few "child-free" moments, I decided to have a go at finishing Machinarium. I loved the game but when we had it on TJ's old tab it got to a certain point and just kept freezing. So we retried it on the PlayBook and it worked perfectly. The annoying thing was that the point it froze at previously was just a couple of tasks away from the end of the game, so it was a little disappointing to replay so much for just a tiny bit of new (to me) game. However there were still a few puzzles I really struggled with, and this one in particular I had to take a photo of the solution on my phone so I could complete it. What a little cheat I am!
4th March
It was an absolutely beautiful day on the 4th and so Little Man and I decided to take a walk into town. He walked so well, all the way from our house to the train station, holding my hand the entire time even though we went past diggers and men hacking at the road. But when we got to town mama realised she had forgotten her card (whoops) so we decided to go to the park instead. It was a lovely afternoon.
5th March
We were given this huge joint of gammon by our neighbour a few weeks back and it had been sitting in our freezer waiting for us to figure out what to do with it. Well, a friend of ours is big on barbecuing (and by this I mean he has a LOT of experience and equipment) so we asked if he would cook it for us. He said yes and so we had to take it out on the Tuesday so it had plenty of time to defrost before he wanted to prepare it on the Friday for cooking on the Saturday. This photo was actually taken on 6th because I forgot to take a photo of it straight out of the freezer!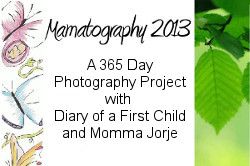 This post is part of the
Mamatography 2013 Project
with
Diary of a First Child
and
Momma Jorje
. We are taking (at least) a photo a day to keep a record of our year. Join us at any point during the year and start sharing your own daily photos! Here's a list of current participants:
***
Without further ado, here are the Mamatography 2013 participants!